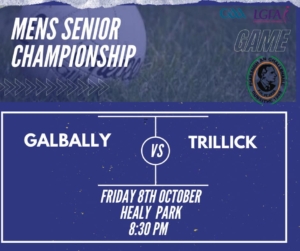 Senior Men's Championship
This Friday night we see our Senior men take on Trillick St Macartans in the LCC GROUP Championship.  Admission is by ticket only, tickets can be purchased by clicking on the link below.
https://www.universe.com/events/pomeroy-v-eglish-trillick-v-galbally-tickets-VSH5W6?buttonColor=#3A66E5&buttonText=Get Tickets
Children Under 16 do not require a ticket.
We would like to wish our Senior men and management team the very best of luck on Friday night.  We are all behind you.
Senior Ladies Championship
Our Senior Ladies played Clonoe last Friday night in their championship game, unfortunately the girls were unlucky not to secure a win.  Final score Galbally 1-5 Clonoe 2-13.
Hard Luck to the girls and management team.
Christmas Club Merchandise
Please see our online brochure for our Christmas Club Merchandise.
https://online.fliphtml5.com/txvjb/nmdn/#p=1
Our Online club shop is now updated and ready for pre-orders in time for Christmas.
https://www.galballygac.com/shop/
Club Lotto
5, 10, 13, 20, 2
No Jackpot Winners
Lucky Dip Winners are: Bernie Hoines, Oliver McAtasney, Sean Donnelly (Loughmacrory), Dwayne Mulgrew, Darren McAshea
Next Week's Jackpot is £6500
Thank you all for your continued support.
Sympathy
Piarsaigh an Ghallbhaile would like to extend our deepest sympathies to the families of Eoin Kerr, Noel Reilly, Jim Donnelly, Micky Morgan, John O'Neill, Willie and Anna McCafferty, Donal McElduff, Brendan O'Neill, Ita Corr and John Curran.  May they Rest In Peace.
By Francis O'Neill
Fri 8th Oct