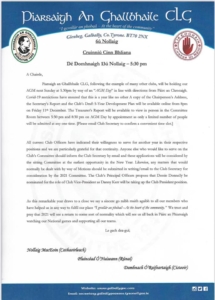 Galbally Pearses 'AGM Day' Sunday 13th December
The image above contains details of this year's AGM. To summarise the current committee will stay in place for 2021. Anyone else who wishes to serve on the committee please inform the club secretary and the request will be considered by the committee. A proposal has been made that Dessie Donnelly is to be nominated for club vice-president and Danny Kerr as club president. All AGM details will be posted online and treasurer's report can be viewed in the committee room by appointment only.
Christmas Remembrance Tree
Owing to the year it has been and with restrictions in place, we have decided to put up a Christmas Tree near the walking track. 2020 has been a difficult year for a lot of us, not being able to visit Family and Friends as often as we would have liked – due to the restrictions. We only hope this Covid 19 pandemic will pass soon. But we know how tough Christmas can be by the absence of family and friends, who either have sadly passed away or who we can't visit at present. We would like to invite you all to place your 'Remembrance Star' on the tree. In memory of loved ones past or present. The Stars are available to pick up from Tallys Shop FREE of charge.
Also help us add some Christmas spirit to the track, by designing and decorating some Christmas baubles to hang on the Laurel trees. Or if you want to be even more creative you can come up with your own ideas. We can't wait to see them all.
Club Lotto
Our numbers drawn were:
13, 15, 26, 29
We had NO JACKPOT winners tonight.
Our five lucky dip winners tonight were:
Annie Grieve, Peadar Kane, James Clarke, Rosemary Kelly, Jarlath Kelly
Next week's JACKPOT is £2400
To play online for next week's lotto, simply visit https://play.clubforce.com/play_newa.asp?ll_id=2522#Anchor
or by using our new envelopes available from Tallys Shop, Yau's Welcome, Donnellys Post Office, Moon & Back Cafe, Food Centre Castlecaulfield, Tallys Bar, The Butchery Donaghmore.
Christmas Club Shop Update
Part of our Christmas club shop order has arrived from O'Neills. We plan to complete what orders we can and be in contact with any fully completed orders via email or phone to arrange collection. The remaining orders will be completed by the second week of December and again we will be releasing details to arrange collection of this merchandise once our shop sub committee get all orders bagged up and ready to go. For anyone who missed out on ordering some of our 'new' gear we will be carrying a very small amount of stock but we hope to release this via our online shop as soon as this stock becomes available. This will be on a first come first served basis so don't miss out. All other items we have in stock are available for immediate collection. We thank everyone for their continued support to our club via our club shop.
Club Shop
Any one that missed out on the Christmas order we still have plenty of options available in stock for Christmas gifts. Our club umbrellas are now available to order online. Priced at £20. Our club bag range now available to order from our website. School bags/Back packs £25.00 Kit Bags – £30.00 Boot bags- £12.50 Limited stock so don't miss out. Shop now- www.galballygac.com/shop
Last Man Standing – Club Fundraiser
The clubs last man standing starts this weekend (Saturday 12th December 2020). All entries to be returned to senior management or any committee member by 9pm on Thursday 10th December 2020. If you wish to enter contact us by PM, entry fee is £10 with a chance to win £500.
Best Wishes
Good luck to Sean Hurson who has been announced as the standby referee for the All-Ireland final between Dublin and Mayo on December 19.

Health & Wellbeing Upcoming Webinars & Programmes
Burnout: COVID stress, strain and fatigue; mindfulness based stress reduction
Ulster GAA are pleased to launch their Online Mental Health Awareness Training Programme which takes place between December 2020 and February 2021. 2020 has put into focus the invaluable contribution our volunteers make to our communities all year round, but in particular this year; whether that be supporting the wider community through-out lock-down, or in enabling the safe return of our playing activities in late summer and autumn. It has been a challenging year and Ulster GAA are hoping to support the wellbeing of many.
HSE – Minding Your Wellbeing Programme
Minding your Wellbeing is an evidence-based programme that aims to provide simple tools and guidance to develop and maintain a positive outlook by looking after our mental health and wellbeing. The Programme consists of five videos (Approx. 20 mins long) which cover the themes:
Practicing Self-care – Explores the idea of individual's 'self-care' and encourages participants to build their own 'self-care toolkit' which includes healthy habits for our mental health and wellbeing
Understanding Our Thoughts – Invites participants to reflect on their own thinking and consider how thinking patterns can impact wellbeing.
Exploring Emotions – Encourages participants to notice their emotions and increase their positive emotions to improve their wellbeing.
Building Positive Relationships – Discusses ways in which participants can nurture, value, and foster positive relationships which are so important for mental wellbeing.
Improving Our Resilience – Invites participants to build their resilience, learn about the building blocks of resilience including the importance of focussing on strengths.
Videos of all five themed areas are available to view HERE – HSE MINDING YOUR WELLBEING
Sympathy
Patrick McGeary R.I.P.
"An Fior Gael"
Everyone leaves their imprint on this earth as they pass through on the journey of life. Many become famous and have buildings or streets named after them. Others are immortalised in poetry and ballads. A few shape the place that they were born into and leave it changed for the better forever after their own day. Patrick McGeary, was just such a person, a man who saw what needed to be done and who did it to an exemplary standard. Never one to mince his words or flinch from what needed to be said or done, Patrick would have asked for, demanded even, briefness and exactitude in any tribute being paid to him. No need for any fuss or frills, just as he lived his life and played football for his beloved Piarsaigh an Ghallbhaile, a fearless stalwart of the '58 and '63 teams.
Along with his close friend Dinny Kerr, he identified the vital need for proper youth coaching and structures within the club. From 1979 the two of them provided just that, bringing through a number of successful underage teams that provided the very backbone of the teams which led us away from the basement of Tír Eoghain football and helped the club firmly establish itself at the top table of all aspects of Cumann Lúthchleas Gael in this historic county. For that a chara we will be forever grateful. Your name will grace the lips of every player who ever dons "an gansaí gorm."
Patrick made it clear to us that he was very grateful for the club's tribute to his beloved wife Rose. Sitting quietly beside her coffin he smiled when told they were genuinely considered to be "Royalty" amongst Galbally Gaels and gently replied "we knew that." Damien, Catherine and everyone who knew and loved them both will understand why there is no need to repeat the words attributed to Rose again for they were truly inseparable in life as in death. Similarly, all will understand if we leave the last words to Patrick himself from that last deep and very meaningful conversation.
He spoke of his great joy to have Catherine, Mark and family so close beside them and how he had helped choose the exact site for their beautiful home. He enquired about the details in a short history of the two years before 1949 when the club was formally admitted to the East Tyrone League, written by the late Dan Kerr in the Millennium Year. He told us how he would always have loved to "have larned Irish", that is exactly how he pronounced it, and spoke of cycling to Dungannon to meet Art McCaughey who agreed to his request to send out an Irish teacher to the wee Hall beside the Chapel. His brother Colm noted that Patrick's closing words when recorded for the Re-Launch of Club an Phiarsaigh were proudly and strongly delivered in his native tongue.
Patrick talked of football and how he had gone to his first game "since the lads died" at Páirc uí Éilí to see us win a first U21 Championship and again just last year to The Athletic Grounds to watch the Ulster Intermediate Club Final. He spoke of his joy that their house was given the honour of welcoming the first Senior Championship trophy to an Ghallbhaile in 61 years. He talked about the more recent interview which was carried on our Facebook page and how he had singled out the neighbours and great rivals, an Domnhach Mór, as the other club that he liked to see doing well. He explained that there were two reasons for this, firstly he meant it and anyway, he added, "it might just annoy a few people." After allowing himself a little laugh and momentary distraction his gaze returned to Rose at peace. A couple of minutes silence and he turned slowly back towards us meeting our eyes. "You know; I'll not be far behind her." There was nothing more to say.
Farewell then dear friend Patrick, truly we will never see your likes again. You have left your mark forever in your beloved an Ghallbhaile and for that we will always be grateful. We thank you for all your wise counsel over the long, often difficult years. Go raibh maith agat for all you did inspiring others giving full vent to the wonderful old Gaelic proverb "Mol an óige agus tiofaidh siad – praise the young and they will flourish." Be in absolutely no doubt Patrick, when that certain day arrives we will gently carry Corn uí Néill to your graveside and salute your memory.
May you now truly Rest in Peace and be re-united with Rose and all the boys in your Eternal Heavenly Home.
Naoimh na hÉireann Guí ar a son.
Maureen Falls (née Quinn) R.I.P.
Piarsaigh an Ghallbhaile CLG are deeply saddened to learn of the passing of Maureen Falls (née Quinn), Aghamullan and late of The Mill, Galbally. The Quinn family are intrinsically linked to the club and for many years after our formation in 1949 provided a pitch to play on. No doubt as a young lady Maureen would have enjoyed watching all the games in Millbrook and the social gatherings that continued long into many a long summer's evening.
Work and marriage took Maureen to Birmingham for a number of years before the family's intended return to the shores of Lough Neagh. Fate however, dealt the Falls family a very cruel hand on 20th November 1974 when Pat Falls was murdered in a gun attack on the family pub in Aghamullan leaving his widow Maureen to raise their six children. The club extend to each of them, and to the entire Quinn family, our sincere sympathy on the loss of their loving mother, sister and aunt. May Maureen now be re-united with her beloved husband Pat just over 46 years after his all too early death and may they both Rest in Eternal Peace.
Ar dheis Dé go a raibh hanam.
By Francis O'Neill
Fri 11th Dec