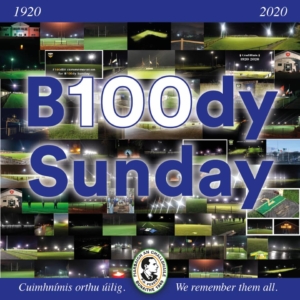 Bloody Sunday – 100th Anniversary
To all the clubs that took part in 'light up your club grounds' last week, Go raibh mile maith agaibh. From us all at Piarsaigh An Ghallbhaile.
O'Neill's GFC An Port Mór An Charraig Mhór GAA Fianna Oileán an Ghuail CLG An Eochair Naomh Mhic Artain Aghaloo O'Neills GFC Moortown St. Malachys Donaghmore GAA Pomeroy Plunketts Gac Clonoe O'Rahillys Errigal Ciaran-Ladies Clan na Gael CLG Errigal Ciaran GAA Caisleán na Deirge Naomh Eoghan CLG Owen Roe O'Neill Leckpatrick An Srath Ban Cumman Mhic Sioghair Dungannon Thomas Clarkes Eoghan Ruadh Hurling Club Cookstown Fr Rocks GFC Drumsurn Gac Clonmore Robert Emmets GFC Henry Joy McCracken's Moneymore GAC Stewartstown Harps GFC Beragh Red Knights GAA St. Joseph's GAA Club, Ballycran Galbally Gaa Gleann Eállaigh Naomh Seosamh CLG McQuillan GA & CC Ballycastle; MacUilín CLG Newtownbutler First Fermanaghs GFC Naomh Eoghan GAA Naomh Éanna CLG St Patrick's Gac Loup Moy Tír na nÓg G.A.C Tullylish GAC Emyvale Gaa Dromore GFC Dunloy Cuchullains Fintona Pearses GAA Glenullin Gac Aghyaran St Davogs GAA Club Killeeshil GFC St. Colm's GAC, Drum High Moss Sarsfields GFC Monaghan Harps GAA Omagh St. Enda's GAA Ballymacnab Round Towers GAA Loch Mhic Ruairí Naomh Treasa GAA Kildress Wolfe Tones Castlehaven GAA Enniskillen Gaels Urney St. Columba's
Christmas Remembrance Tree
Owing to the year it has been and with restrictions in place, we have decided to put up a Christmas Tree near the walking track. 2020 has been a difficult year for a lot of us, not being able to visit Family and Friends as often as we would have liked – due to the restrictions. We only hope this Covid 19 pandemic will pass soon. But we know how tough Christmas can be by the absence of family and friends, who either have sadly passed away or who we can't visit at present. We would like to invite you all to place your 'Remembrance Star' on the tree. In memory of loved ones past or present. The Stars are available to pick up from Tallys Shop FREE of charge.
Also help us add some Christmas spirit to the track, by designing and decorating some Christmas baubles to hang on the Laurel trees. Or if you want to be even more creative you can come up with your own ideas. We can't wait to see them all.
Club Lotto
Our numbers drawn were:
5, 6, 17, 18, 19
We had NO JACKPOT winners tonight.
Our five lucky dip winners tonight were:
Oliver & Michelle Nugent, Brian c/o The Butchery, Justina Mulgrew, Paul Conlon, Annie Grieve
Next week's JACKPOT is £2300
To play online for next week's lotto, simply visit https://play.clubforce.com/play_newa.asp?ll_id=2522#Anchor
or by using our new envelopes available from Tallys Shop, Yau's Welcome, Donnellys Post Office, Moon & Back Cafe, Food Centre Castlecaulfield, Tallys Bar, The Butchery Donaghmore.
Christmas Club Shop Update
Part of our Christmas club shop order has arrived from O'Neills. We plan to complete what orders we can and be in contact with any fully completed orders via email or phone to arrange collection. The remaining orders will be completed by the second week of December and again we will be releasing details to arrange collection of this merchandise once our shop sub committee get all orders bagged up and ready to go. For anyone who missed out on ordering some of our 'new' gear we will be carrying a very small amount of stock but we hope to release this via our online shop as soon as this stock becomes available. This will be on a first come first served basis so don't miss out. All other items we have in stock are available for immediate collection. We thank everyone for their continued support to our club via our club shop.
Club Shop
Any one that missed out on the Christmas order we still have plenty of options available in stock for Christmas gifts. Our club umbrellas are now available to order online. Priced at £20. Our club bag range now available to order from our website. School bags/Back packs £25.00 Kit Bags – £30.00 Boot bags- £12.50 Limited stock so don't miss out. Shop now- www.galballygac.com/shop
Health & Wellbeing Upcoming Webinars & Programmes
Cork GAA & CHWC in partnership with The Wellbeing Network, West Cork – Moving Goalposts Online Event
The Panel will discuss the impact of COVID-19 on sporting communities and how people can be proactive about looking after the wellbeing of their communities.
'This online event will highlight some of the community-minded and creative ways GAA clubs and the organisation have responded to this crisis and ways that players, supporters and the many others involved in sport at grassroots level, can stay connected and positive in the midst of this pandemic where the goalposts are constantly moving.'
Date: Wednesday 9th December
Time: 7.00pm to 8.00pm
Register on Eventbrite at: https://movinggoalposts.eventbrite.ie and link to attend the webinar will be sent on coming up to the event.
Note: The webinar will be recorded, so if you are interested, but can't attend on Wednesday 9th, please register and a link to the recording will be sent on after the event.
Panellists:
Ruairí Deane, Cork Senior Team
Martina O' Brien, Cork Senior Ladies Football Goalkeeper
Kevin O' Donovan, CEO Cork GAA
Keith Ricken, Cork U20 All Ireland Winning Team Manager & CIT GAA Officer
MC: Kieran McCarthy, Sports Editor, The Southern Star
For further info: Email: wellbeingnetwork@nln.ie or Phone: 087 7453933
HSE – Minding Your Wellbeing Programme
Minding your Wellbeing is an evidence-based programme that aims to provide simple tools and guidance to develop and maintain a positive outlook by looking after our mental health and wellbeing. The Programme consists of five videos (Approx. 20 mins long) which cover the themes:
Practicing Self-care – Explores the idea of individual's 'self-care' and encourages participants to build their own 'self-care toolkit' which includes healthy habits for our mental health and wellbeing
Understanding Our Thoughts – Invites participants to reflect on their own thinking and consider how thinking patterns can impact wellbeing.
Exploring Emotions – Encourages participants to notice their emotions and increase their positive emotions to improve their wellbeing.
Building Positive Relationships – Discusses ways in which participants can nurture, value, and foster positive relationships which are so important for mental wellbeing.
Improving Our Resilience – Invites participants to build their resilience, learn about the building blocks of resilience including the importance of focussing on strengths.
Videos of all five themed areas are available to view HERE – HSE MINDING YOUR WELLBEING
Sympathy
Galbally Pearses GAC would like to extend our deepest sympathies to the families of Mickey Conway, Kathleen Corrigan, Enda Hamill, Mary McKenna and Teresa Magee.
May they Rest In Peace.