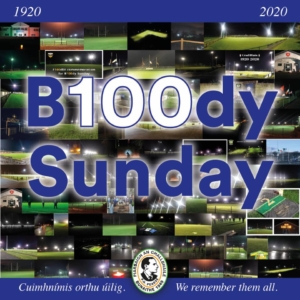 Bloody Sunday – 100th Anniversary
To all the clubs that took part in 'light up your club grounds' last week, Go raibh mile maith agaibh. From us all at Piarsaigh An Ghallbhaile.
O'Neill's GFC An Port Mór An Charraig Mhór GAA Fianna Oileán an Ghuail CLG An Eochair Naomh Mhic Artain Aghaloo O'Neills GFC Moortown St. Malachys Donaghmore GAA Pomeroy Plunketts Gac Clonoe O'Rahillys Errigal Ciaran-Ladies Clan na Gael CLG Errigal Ciaran GAA Caisleán na Deirge Naomh Eoghan CLG Owen Roe O'Neill Leckpatrick An Srath Ban Cumman Mhic Sioghair Dungannon Thomas Clarkes Eoghan Ruadh Hurling Club Cookstown Fr Rocks GFC Drumsurn Gac Clonmore Robert Emmets GFC Henry Joy McCracken's Moneymore GAC Stewartstown Harps GFC Beragh Red Knights GAA St. Joseph's GAA Club, Ballycran Galbally Gaa Gleann Eállaigh Naomh Seosamh CLG McQuillan GA & CC Ballycastle; MacUilín CLG Newtownbutler First Fermanaghs GFC Naomh Eoghan GAA Naomh Éanna CLG St Patrick's Gac Loup Moy Tír na nÓg G.A.C Tullylish GAC Emyvale Gaa Dromore GFC Dunloy Cuchullains Fintona Pearses GAA Glenullin Gac Aghyaran St Davogs GAA Club Killeeshil GFC St. Colm's GAC, Drum High Moss Sarsfields GFC Monaghan Harps GAA Omagh St. Enda's GAA Ballymacnab Round Towers GAA Loch Mhic Ruairí Naomh Treasa GAA Kildress Wolfe Tones Castlehaven GAA Enniskillen Gaels Urney St. Columba's
Remembrance Mass
Due to the current restrictions this mass will be available to watch via the Parish webcam. It will go live on Sunday 29th November at 10am. From the link below:
https://www.mcnmedia.tv/camera/church-of-st-john-the-baptist-galbally
Christmas Remembrance Tree
Owing to the year it has been and with restrictions in place, we have decided to put up a Christmas Tree near the walking track. 2020 has been a difficult year for a lot of us, not being able to visit Family and Friends as often as we would have liked – due to the restrictions. We only hope this Covid 19 pandemic will pass soon. But we know how tough Christmas can be by the absence of family and friends, who either have sadly passed away or who we can't visit at present. We would like to invite you all to place your 'Remembrance Star' on the tree. In memory of loved ones past or present. Stars will be available to collect from Tallys Shop very soon.
Club Lotto
Our numbers drawn were:
4, 5, 7, 14, 17
We had NO JACKPOT winners tonight.
Our five lucky dip winners tonight were:
Eugene Hackett, Mickey Donaghy, Bernie Murphy, Maggie Rafferty, Aideen McGlone
Next week's JACKPOT is £2200
To play online for next week's lotto, simply visit https://play.clubforce.com/play_newa.asp?ll_id=2522#Anchor
or by using our new envelopes available from Tallys Shop, Yau's Welcome, Donnellys Post Office, Moon & Back Cafe, Food Centre Castlecaulfield, Tallys Bar, The Butchery Donaghmore.
Club Shop
Any one that missed out on the Christmas order we still have plenty of options available in stock for Christmas gifts. Shop now- www.galballygac.com/shop
Health & Wellbeing Upcoming Webinars & Programmes
GAA for ALL – Webinar Series
The GAA for ALL webinar series has been a huge success with a high volume of attendees for each session. The fifth and final webinar is:
GAA For ALL Communication & National Inclusion fitness day-case studies it takes place on Tuesday 1st December at 6.00pm – Please register using the link below, once registered a link to the webinar will be forwarded to participants.
https://www.eventbrite.ie/e/gaa-for-all-gaa-national-inclusive-training-series-tickets-126245542817
The webinar will include:
Communicating key coaching points
Best practice in inclusion
Delivery and approach for children and adults of all abilities and needs
Registration platform – Eventbrite
Webinar delivery platform – Zoom
Sympathy
Mickey McPhillips R.I.P.
Piarsaigh an Ghallbhaile CLG deeply regret the sudden and untimely death of Mickey and tender to his family, friends and neighbours our sincere condolences. Micky was a familiar face around the country and was always very obliging and generous with his time. During the first and second phase of the re-development of Páirc an Phiarsaigh he played a vital role in recording for posterity the huge amount of voluntary work undertaken by so many club members. Mickey brought his talent to bear on the unforgettable night that Upper Glenbeg was first flooded with light and was there again to record the Official Opening of our wonderful new playing facilities and walking track. We will always be grateful for his efforts and for his friendship over the years. These will no doubt be difficult days for Mickey's family and friends made all the more so by the extra-ordinary times we are living through. We will keep them, and Mickey, in our thoughts and prayers in the coming days and weeks. Ar dheis Dé go a raibh anam.
Kathleen Corrigan (née McAlinden) R.I.P.
Piarsaigh an Ghallbhaile CLG deeply regret the untimely death of Kathleen who was for so many years a familiar smiling face around Páirc an Phiarsaigh. Along with Barney her devoted husband, Catriona their daughter and later Ailish their granddaughter, she could always be relied on for her faithful support for all our teams through the good, and sometimes not so good days. Barney of course also served on the club committee for a number of years. The loss of a wife, mother, grandmother and sister at any time is a difficult burden for a family to bear. At the present time it is surely all the more difficult as the Corrigan/McAlinden families cannot be afforded the rich rural Irish tradition of countless neighbours and friends attending the wake at the family home or in turning out in big numbers for Requim Mass due to current restrictions. The club would like, however, to re-assure the wider Corrigan and McAlinden families of our deepest sympathy and want them to know that all of us will keep Kathleen, Barney, Catriona and Ailish very much in our thoughts and prayers in the coming days and weeks. Ar dheis Dé go a raibh hanam.