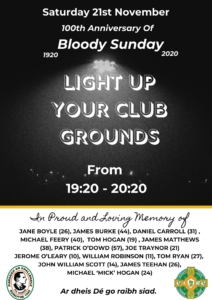 Bloody Sunday – 100th Anniversary
𝐏𝐢𝐚𝐫𝐬𝐚𝐢𝐠𝐡 𝐀𝐧 𝐆𝐡𝐚𝐥𝐥𝐛𝐡𝐚𝐢𝐥𝐞 𝐂𝐋𝐆 𝐰𝐢𝐥𝐥 𝐛𝐞 𝐥𝐢𝐠𝐡𝐭𝐢𝐧𝐠 𝐮𝐩 𝐏𝐞𝐚𝐫𝐬𝐞 𝐏𝐚𝐫𝐤 𝐨𝐧 𝐒𝐚𝐭𝐮𝐫𝐝𝐚𝐲 𝐧𝐢𝐠𝐡𝐭 𝐟𝐫𝐨𝐦 𝟏𝟗:𝟐𝟎 𝐭𝐨 𝟐𝟎:𝟐𝟎 𝐭𝐨 𝐜𝐨𝐦𝐦𝐞𝐦𝐨𝐫𝐚𝐭𝐞 𝐭𝐡𝐞 𝟏𝟎𝟎𝐭𝐡 𝐀𝐧𝐧𝐢𝐯𝐞𝐫𝐬𝐚𝐫𝐲 𝐨𝐟 𝐁𝐥𝐨𝐨𝐝𝐲 𝐒𝐮𝐧𝐝𝐚𝐲. 𝐖𝐞 𝐰𝐨𝐮𝐥𝐝 𝐥𝐢𝐤𝐞 𝐭𝐨 𝐢𝐧𝐯𝐢𝐭𝐞 𝐞𝐯𝐞𝐫𝐲 𝐆𝐀𝐀 𝐂𝐥𝐮𝐛 𝐚𝐜𝐫𝐨𝐬𝐬 𝐭𝐡𝐞 𝐰𝐨𝐫𝐥𝐝 𝐭𝐨 𝐥𝐢𝐠𝐡𝐭 𝐮𝐩 𝐲𝐨𝐮𝐫 𝐠𝐫𝐨𝐮𝐧𝐝𝐬 𝐟𝐨𝐫 𝐨𝐧𝐞 𝐡𝐨𝐮𝐫 𝐭𝐡𝐢𝐬 𝐒𝐚𝐭𝐮𝐫𝐝𝐚𝐲 𝐞𝐯𝐞𝐧𝐢𝐧𝐠 𝐟𝐫𝐨𝐦 𝟏𝟗:𝟐𝟎 𝐭𝐨 𝟐𝟎:𝟐𝟎 𝐢𝐧 𝐡𝐨𝐧𝐨𝐮𝐫 𝐨𝐟 𝐭𝐡𝐞𝐢𝐫 𝐦𝐞𝐦𝐨𝐫𝐲. 𝐓𝐡e 𝐛𝐫𝐢𝐠𝐡𝐭 𝐠𝐥𝐨𝐰 𝐨𝐟 𝐭𝐡𝐞 𝐩𝐫𝐞𝐬𝐞𝐧𝐭 𝐡𝐨𝐩𝐞𝐟𝐮𝐥𝐥𝐲 𝐰𝐢𝐥𝐥 𝐧𝐨𝐭 𝐨𝐧𝐥𝐲 𝐜𝐚𝐬𝐭 𝐚 𝐬𝐞𝐚𝐫𝐜𝐡𝐢𝐧𝐠 𝐥𝐢𝐠𝐡𝐭 𝐛𝐚𝐜𝐤 𝐨𝐧 𝐭𝐡𝐞 𝐝𝐚𝐫𝐤𝐞𝐬𝐭 𝐝𝐚𝐲 𝐢𝐧 𝐭𝐡𝐞 𝐀𝐬𝐬𝐨𝐜𝐢𝐚𝐭𝐢𝐨𝐧'𝐬 𝐡𝐢𝐬𝐭𝐨𝐫𝐲 𝐛𝐮𝐭 𝐰𝐢𝐥𝐥 𝐩𝐫𝐨𝐯𝐢𝐝𝐞 𝐚 𝐟𝐢𝐭𝐭𝐢𝐧𝐠 𝐜𝐨𝐥𝐥𝐞𝐜𝐭𝐢𝐯𝐞 𝐭𝐫𝐢𝐛𝐮𝐭𝐞 𝐭𝐡𝐚𝐭 𝐰𝐢𝐥𝐥 𝐧𝐨 𝐝𝐨𝐮𝐛𝐭 𝐞𝐧𝐥𝐢𝐠𝐡𝐭𝐞𝐧 𝐲𝐨𝐮𝐧𝐠𝐞𝐫 𝐆𝐚𝐞𝐥𝐬 𝐚𝐧𝐝 𝐢𝐧𝐬𝐩𝐢𝐫𝐞 𝐭𝐡𝐞𝐦 𝐭𝐨 𝐚𝐥𝐰𝐚𝐲𝐬 𝐤𝐞𝐞𝐩 𝐚𝐥𝐢𝐯𝐞 𝐭𝐡𝐞 𝐦𝐞𝐦𝐨𝐫𝐲 𝐨𝐟 𝐭𝐡𝐞 𝐯𝐢𝐜𝐭𝐢𝐦𝐬 𝐨𝐟 𝟐𝟏𝐬𝐭 𝐍𝐨𝐯𝐞𝐦𝐛𝐞𝐫 𝟏𝟗𝟐𝟎; 𝐈𝐫𝐞𝐥𝐚𝐧𝐝'𝐬 𝐅𝐢𝐫𝐬𝐭 𝐁𝐥𝐨𝐨𝐝𝐲 𝐒𝐮𝐧𝐝𝐚𝐲.
Christmas Remembrance Tree
Owing to the year it has been and with restrictions in place, we have decided to put up a Christmas Tree near the walking track. 2020 has been a difficult year for a lot of us, not being able to visit Family and Friends as often as we would have liked – due to the restrictions. We only hope this Covid 19 pandemic will pass soon. But we know how tough Christmas can be by the absence of family and friends, who either have sadly passed away or who we can't visit at present. We would like to invite you all to place your 'Remembrance Star' on the tree. In memory of loved ones past or present. Stars will be available to collect from Tallys Shop very soon.
Club Lotto
Our numbers drawn were:
1, 11, 15, 17, 23
We had NO JACKPOT winners tonight.
Our five lucky dip winners tonight were:
Celine Robinson, Shane McCaughey, Barney John Kelly, Josie Quinn, Rosemary & Roisin Kelly
Next week's JACKPOT is £2100
To play online for next week's lotto, simply visit https://play.clubforce.com/play_newa.asp?ll_id=2522#Anchor
or by using our new envelopes available from Tallys Shop, Yau's Welcome, Donnellys Post Office, Moon & Back Cafe, Food Centre Castlecaulfield, Tallys Bar, The Butchery Donaghmore.
Club Shop
Any one that missed out on the Christmas order we still have plenty of options available in stock for Christmas gifts. Shop now- www.galballygac.com/shop
Congratulations
Congratulations to Sean Hurson who was the referee for the Connacht Football Final between Galway and Mayo.
Best Wishes
Piarsaigh an Ghallbhaile would like to take this opportunity to send our very best wishes to Mickey Harte as he steps away from his role as Manager of the Tír Eoghain Senior team. We all enjoyed the remarkable journey and will always remember the joy, pride and glory of that wonderful September day in 2003 when it was finally "time to take Sam back to Tyrone." How proud we were of every one of you especially our own Paddy Tally. Even more success came on the All-Ireland stage in 2005 with our own Mickey Murphy proudly becoming the first player from the club to win a Celtic Cross. Another victory quickly followed in 2008 and we will also never forget being part of those two wonderful nights when the floodlights lit up the Dublin sky and the Red Hands lit up the Páirc an Chrocaigh scoreboards. Having our own Mickey Murphy again representing the club made it even that bit more special then and today we are very proud that Liam Rafferty, Daniel Kerr and Conor Quinn are very much part of the Tír Eoghain set-up. Unfortunately we have not yet returned to those dizzy heights. As Mickey leaves though he can be justifiably proud of all he has achieved with the various Tír Eoghain teams he has managed over so many years. The club wish him well on whatever path life takes him and trust that he will be blessed with every success and good health in the years to come. Go Raibh Maith Agat agus Ádh Mór a Chara .