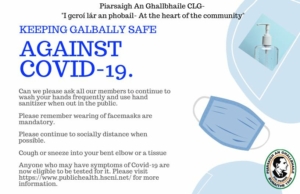 Important Notice
On Monday afternoon we received information from Croke Park that the GAA Management Committee has made the decision to suspend all GAA club games at all levels with the immediate effect and until further notice. While most of our football competitions were already over, our under 14 & under 16 girls matches have now been postponed and they will be taking a break from training in the meantime.
Please Take Care – Please Stay Safe.
Reserve Championship
Our reserve men lost to Carrickmore in the championship on Saturday afternoon, we trailed by 0-3 to 1-4 at half time. In the second half we just couldn't get the better of Carrickmore. Final Score Galbally 0-6 Carrickmore 1-9. That draws our reserve football to an end for the 2020 season. Thank you for all your hard work and commitment in what was a difficult year.

World Mental Health Day
We are organising for all club members to get involved with World Mental Health Day this Saturday 10th October. This year more than ever it is important that we are all looking after our own mental health and what better way to celebrate World Mental Health Day 2020 by sharing our tips to help other people within our club. After all this years theme is 'Mental Health for All'.
We are asking everyone to share with us their self-care tips and what they do to look after their mental health as we will be sharing everyone's tips with all our members. Remember all tips are important, even if they are small. If it could help one other person then it will make it all worthwhile.
We understand some people may wish to remain anonymous so please send your responses to Justina 07523231464 or to Carla at 07928706084 or feel free to private message us on the club's social media pages.
Club Lotto
Our numbers drawn were:
8, 12, 18, 25, 26
We had NO JACKPOT winners tonight.
Our five lucky dip winners tonight were:
Cathal Hurson (Carrickmore), Sally Carberry, Helen McVeigh, Edel Woods, Kate Magee
Next week's JACKPOT is £1500
To play online for next week's lotto, simply visit https://play.clubforce.com/play_newa.asp?ll_id=2522#Anchor
or by using our new envelopes available from Tallys Shop, Yau's Welcome, Donnellys Post Office, Moon & Back Cafe, Food Centre Castlecaulfield, Tallys Bar, The Butchery Donaghmore.
Club Shop
In light of the current Covid pandemic, our club has decided to take its club merchandise Christmas orders online this year via our online shop.
Our online shop will close for guaranteed Christmas delivery on Sunday 11th October @ 6pm.
Any orders beyond this date/time will not be guaranteed delivery before Christmas.
We encourage everyone to use our online shop but we are very aware that some might not be confident in using online and we are also aware of our customers that like to avail of our Christmas club.
If this is the case we are offering a club shop booking form that will be available from Tallys (Mace) and Donnelly's Post Office.
The club shop booking form will be available to get from Tallys Mace & Donnelly's Post Office from 6.30pm on Friday 2nd October and will detail all available garments and their prices.
The completed club shop booking form along with full payment must be returned to Tallys Mace or Donnelly's Post Office on or before Sunday 11th October @ 6pm.
Any customer that wishes to avail of our Christmas club (paying in installments) or have any further queries please contact Gareth Rafferty on 07958303840 or Pauline Bowman on 07774698523 for further details.
Club Gear is so much more than a jersey or a hoody, it's your identity and it's your culture! It's there to be worn with pride.
https://online.fliphtml5.com/txvjb/nwnt/
Sympathy
The club would like to extend our deepest sympathy to the family of James McKeown. Our thoughts and prayers are with you all at this sad time. May he Rest In Peace.
By Francis O'Neill
Wed 7th Oct