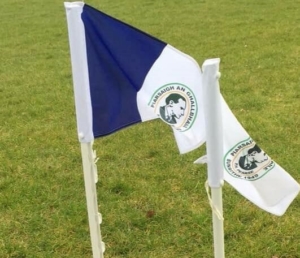 Fixtures
This week we have our Minor boys, Under 16 boys and Under 14 boys all playing in the championship. The fixtures are as follows:
🔹MINOR CHAMPIONSHIP🔹
MOY TIR NA NOG V GALBALLY PEARSES
TUESDAY 1ST SEPTEMBER
VENUE – MOY @6:45PM
🔹UNDER 16 CHAMPIONSHIP 🔹
DROMORE ST. DYMPNAS V GALBALLY PEARSES
THURSDAY 3RD SEPTEMBER
VENUE- DROMORE @ 6:45PM
🔹UNDER 14 CHAMPIONSHIP 🔹
GALBALLY PEARSES V TRILLICK ST. MACARTAN'S
SATURDAY 5TH SEPTEMBER
PEARSE PARK @11:00AM
We would like to take this opportunity to wish all three teams and management the very best of luck in their fourth coming championship games. We would encourage as many supporters to get to the games and show the boys the support they deserve. Please abide by the social distancing guidelines.
Under 16 Boys
Our Under 16 boys had an impressive win over Errigal Ciaran last week in the championship game, winning 4-10 to 1-03. Well done to you all, you all played outstanding football. Good Luck against Dromore this Thursday.
Senior Championship
Last Saturday we hosted the LCC Group Tyrone Senior Championship Quarter Final, where Coalisland played Derrylaughan. We would like to thank all our volunteers who helped out, parking cars, welcoming both teams and supporters showing them to their allocated sections, making tea/ coffee, to our grounds committee who had Pearse Park looking in immaculate condition, match stewarding, thank you to Kayleigh Loughran who sang our national anthem beautifully, also thanks to Brenda Hetherington who did the public announcements.
We really appreciate all your help; hosting championship games wouldn't be possible without the help from you all.
Youth Teams
Our youth teams had some Go Games last weekend, we would like to thank Killeeshil, Donaghmore, Errigal Ciaran and Aghaloo for playing against us.
Can we ask that all parents/guardians stay for the duration of the youth matches, while still maintaining social distancing.
Every club member must give due consideration to all relevant published guidelines.
Club Shop Online
Remember to check out our online club shop for all your Galbally Pearses gear. www.galballygac.com/shop
When buying online there are two options at checkout to receive your club merchandise, If you select Shipping – postage will be arranged to your door. Or if you select Local Collection- once your order has been placed you will receive an order confirmation followed by an email from our email address galballyclubshop@gmail.com confirming where & when your order will be available to be collected from (please keep an eye on your junk mail folder).
Club Lotto
Our new lotto relaunch will take place on Tuesday 8th September, more details will be provided this week. Keep your eyes peeled.
Sympathy
Galbally Pearses GAC would like to extend our deepest sympathies to the families of Seamus Donnelly, Orla Rafferty, Jim Curran and Jim Donnelly on their recent passing. May They Rest in Peace.