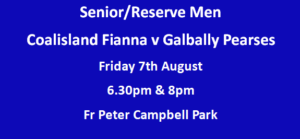 Senior Men
On Sunday afternoon we seen two very entertaining games in Pearse Park against Clonoe. One point separated the teams at half time with Clonoe leading 1-8 to 1-7. But Galbally produced some great football, fantastic scores, attacking at pace and our defence putting in a hard shift. A last minute goal seen our senior men seal a win by one point. An overall brilliant performance from the whole team. Final score Galbally 2:14 Clonoe 1:16. A great result for our senior men and management.
Our reserve game was also an entertaining game to watch. The reserves were trailing by 6 points at half time Galbally 0-4 Clonoe 1-7. However the reserves came out in the second half and battled against Clonoe to end the game in a draw. Galbally 2-10 Clonoe 2-10.
This Friday night our senior men and reserves are away to Coalisland, throw in times 6:30pm and 8pm. All support welcome for the boys. Good luck to our senior/reserve men and management.
Senior Ladies
Senior ladies Galbally got back to winning ways with a win by a single point in a great comeback victory away to Clonoe. Clonoe got the first score of the game with 10 mins on the clock with both teams guilty of hitting multiple wides. Galbally's first score of the game was a well taken goal by full forward Ciara Kelly on 12 mins. Clonoe responded with 2 points from play in quick succession before Claire McKeown raised the white flag for the Galbally girls. Clonoe finished the half strong scoring 1-1 to leave the score-line Clonoe 1-4 Galbally 1-1 at half time. Clonoe started the brighter in the second period getting the first point of the half before once again Galbally's Ciara Kelly scored to keep the Galbally girls within touching distance. With the game starting to open up and Clonoe grabbed a goal midway through the 2nd half to stretch their lead to 6 points but the Galbally girls replied with the next attack raising the green flag with a great goal by Celine Carberry to bring it to a 3 point game. With 10 mins left on the clock Clonoe once again stretched their lead with a fine point to widen the margin to 4 points. That's as good as it got for Clonoe who failed to score for the rest of the game. Galbally tagged on 3 quick points all in the space of 5 mins with Caítriona Kerr, Clodagh Corr and Claire McKeown on target. With 5 mins left Galbally pushed on and kept their momentum going with Kerr adding 2 points on 28th and 29th mins to seal a great comeback win for the Galbally girls by the slimmest of margins. Final score Clonoe 2-6 Galbally 2-7.
Minor Girls
Their next game is on Monday 10th August at 7pm away to Stewartstown.
Minor Boys
Our minor boys were beat by Edendork on Tuesday night by two points. Half time score Edendork 1-9 Galbally 0-3. Final score Edendork 2-12 Galbally 3-7, a great second half performance from the boys but unfortunately it wasn't enough to secure a win in the end.
Under 16 Boys
The boys are away to the Moy on Thursday night, throw in 7:15pm. Good luck to the boys and management.
Under 14 Boys
The boys are away to Ardboe on Saturday morning, throw in 11am. Good luck to the boys and management.
Under 8 Girls
Under 8 girls this week will be at the earlier time of 6:15-7pm on Thursday evening
Can we ask that all parents/guardians stay for the duration of the youth matches, while still maintaining social distancing.
Every club member must give due consideration to all relevant published guidelines.
Club Shop Online
Remember to check out our online club shop for all your Galbally Pearses gear. www.galballygac.com/shop
When buying online there are two options at checkout to receive your club merchandise, If you select Shipping – postage will be arranged to your door. Or if you select Local Collection- once your order has been placed you will receive an order confirmation followed by an email from our email address galballyclubshop@gmail.com confirming where & when your order will be available to be collected from (please keep an eye on your junk mail folder).
St. Joseph's Primary School Fundraiser
St. Joseph's Primary School in conjunction with Galbally Pearses GAC have hand drawn prints of our 2019 Intermediate Championship winning panel. The sketch is available to purchase via Galbally Pearses online club shop www.galballygac.com/shop. All proceeds will go towards St. Joseph Primary School funds.
By Francis O'Neill
Thu 6th Aug