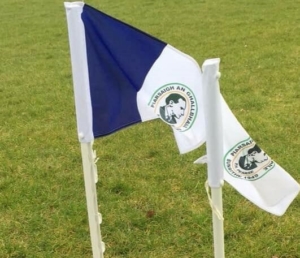 Senior Men
Sunday 26th July we had our first home game for our Senior/ Reserve men of 2020. With the announcement made on Thursday evening that spectators would be allowed to attend outdoor sporting events it was great to see our supporters back in Pearse Park. Our seniors were unlucky not to get something out of the game, losing out by three points to visitors Dromore. Trailing by 4 points at half time, our seniors fought back and played some great football and hitting 10 points in the second, it just wasn't enough to secure a win. Final score: Galbally 0-13 Dromore 2-10
Our Reserves scored a last minute goal to secure a draw. Final score: Galbally 1-08 Dromore 1-08
We have it all to do again this Sunday when the Senior /Reserve men are at home to Clonoe, throw in 2:15 & 3:45pm.
All support welcome for the Senior/ Reserve Squad. Please abide by social distancing.
Senior Ladies
Galbally ladies made it two wins from two on Friday night with a 7 point win over their neighbours Rock. The Galbally girls started the brighter of the two teams with corner forward Maeve McGlinchey opening the score with 3 minutes on the clock. A well worked Galbally move on 6 minutes ended with Claire McKeown opening her account for the night with a fine point which put 2 between the sides. On 16th and 17th minute, Maeve once again added another 2 points for the girls after the Galbally defence broke down yet another Rock attack to leave 4 points between the sides heading into the water break. Rock got their first scores of the night with fine points on the 18th and 20th minute to just leave 2 points in the game. In the last 5 mins of the first half Galbally tagged on 1-1 without reply. A great goal by Claire McKeown and another point from Maeve McGlinchey left the score 1-5 to 0-2 at half time. Rock got the first 3 points in the 2nd half which left the game with 3 points between the sides. The Rock defence kept Galbally scoreless for the first 20 minutes of the second half with weather conditions starting to play their part. Galbally's first score of the 2nd half came with 10 minutes left of the game, the point coming from the right foot of Catherine Walker after a fine individual run. Galbally once again pushed on and a great goal from Ciara Kelly with 5 minutes to go sealed the points for the Galbally girls. Credit to the Rock girls they attacked at every opportunity and once again Laura Kane and her defence had to be at their best to stop a near certain goal with 28 minutes on the clock. Final score: Galbally 2-6 Rock 0-5. Galbally return to Pearse Park Friday night (31st) at 7:30pm with Moy being the visitors. Good luck girls and management.
Minor Girls
Our Minor girls had a good win over neighbours Pomeroy on Monday evening. Final score: Galbally 1-5 Pomeroy 0-3
Well done to the players and management on a good win. Their next game is on Monday 10th August at 7pm away to Stewartstown.
Minor Boys
Our Minor boys were away to Clonoe last Thursday night where they came out winners with a score line of Clonoe 0-7 Galbally 1-10. A great win for the boys and management. Well done. This Thursday 30th they are at home to our parish neighbours Donaghmore, throw in 7pm.
Under 16 Boys
Hard luck to our Under 16 boys last Tuesday night when they were defeated by Kildress on a score line of Kildress 3-8 Galbally 0-11.
However this week our Under 16 boys had a great win over Stewartstown with the final score Stewartstown 0-8 Galbally 2-11. A great performance boys. Well done to all players and management.
Under 14 Boys
Our Under 14 boys travelled to Dungannon last Saturday morning where they had a high scoring game and defeated Dungannon by 11 points. Dungannon 2-6 Galbally 4-11. Well done boys. This Saturday our boys are at home to Eglish, throw in 11am.
Can we ask that all parents/guardians stay for the duration of the youth matches, while still maintaining social distancing.
Every club member must give due consideration to all relevant published guidelines.
Palfinger Sponsor
The club were delighted to welcome Seamus Kane of Palfinger (Tullamore, Co Offaly) back to Páirc an Phiarsaigh on Sunday to mark the official presentation of the new reserve team jerseys. Seamus's company based in the midlands have been very generous sponsors of the club over a long number of years and we are delighted that our reserve team will now wear their prestigious international company logo.
The jersey itself has drawn very favourable comment from everyone who has seen it to date and we hope and trust that it will be worn with much pride and success in the years ahead. Again we say go raibh mile maith agat to Seamus and wish him and his company every continued success in their own specialist field.
Last Man Standing
Last weekend seen our 'Last Man Standing' competition came to an end, where the £500 was split five ways. With each winner getting £100 each. The winners were as follows:
Niall Quinn, Michelle Boyle, Gregory Healy, Mark Molloy and David Anderson. Congratulations to you all and thank you to everyone who took part.
Membership
Last Chance To Pay Your Club Membership
Given the extraordinary year we are living through the deadline for paying any outstanding club membership had been extended but will close in a few days. All previous members should check whether they have paid either their membership or their Club an Phiarsaigh. If in any doubt please contact Marie Rafferty on 07825443088 or any committee member before this Thursday night. (30th July)
Apart from supporting Piarsaigh an Ghallbhaile it will ensure that you will be in with a chance of getting tickets for Tír Eoghain matches later in the year which will be at an absolute premium.
Club Shop Online
Remember to check out our online club shop for all your Galbally Pearses gear. www.galballygac.com/shop
When buying online there are two options at checkout to receive your club merchandise, If you select Shipping – postage will be arranged to your door. Or if you select Local Collection- once your order has been placed you will receive an order confirmation followed by an email from our email address galballyclubshop@gmail.com confirming where & when your order will be available to be collected from (please keep an eye on your junk mail folder).
St. Joseph's Primary School Fundraiser
St. Joseph's Primary School in conjunction with Galbally Pearses GAC have hand drawn prints of our 2019 Intermediate Championship winning panel. The sketch is available to purchase via Galbally Pearses online club shop www.galballygac.com/shop. All proceeds will go towards St. Joseph Primary School funds.